Skip to main content

English-Latin Phrase Book
from Hone Your Mind
Scholars would die for this phrase book!
I, a Latin dilettente, needing support for almost every phrase I read or utter in Latin, discovered this magnificent dictionary of latin phrases, preserved for scholars and experts through dedication and love of learning from the management of the University of Toronto and the beneficence of the Microsoft Corporation.

I can just imagine that if I was a scholar of Latin in the 1800's I would have starved myself for a month for such a prize, and now, hey, you can get it for free!

The searchable English Latin PDF phrase book!
The original, from the web it is in a non-searchable PDF format, and reading it would test the psyche of a saint, and for sure, searching in it is difficult to impossible.

So, for my own use, I ran it through an OCR program, edited it here and there, and created a searchable version in English and in Latin and I am, mostly, delighted with the result.

If you want to grow the world of knowledge and see more such books in the future, there is a PayPal button for those who want to purchase it in the searchable format, but in the original format you can still download it for free.


English Latin PDF phrase book, searchable, 1025 pages, 48.7 MB in .rar file, click the PayPal button to download it for US$ 9.95"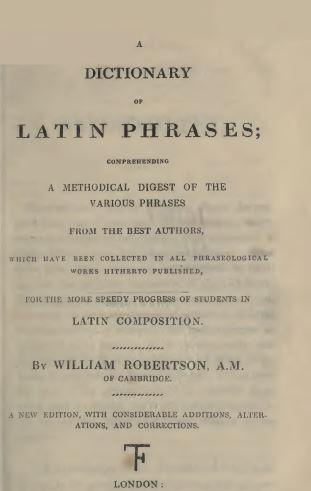 Page Revision #1.2 11-2017